SACRAMENTO, CA, November 2020 – The California Small School Districts' Association (SSDA) is proud to announce that San Ardo student Zuliana Carbajal, an 8th-grade student at San Ardo Union Elementary School District in South Monterey County was selected as the winner of the first-ever SSDA Holiday Card Student Art Contest. Her artwork was selected from over 75 submissions throughout California and her work will be featured on the annual SSDA holiday card.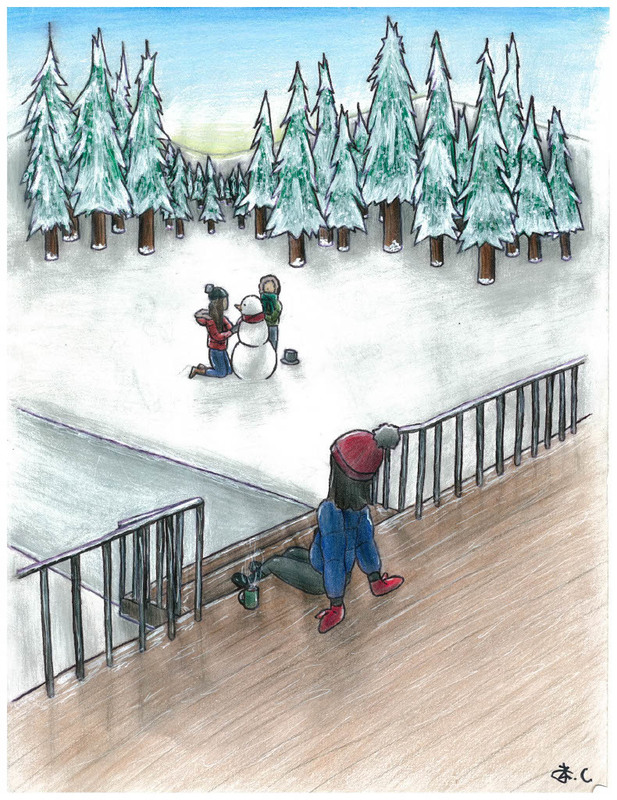 "We are thrilled to host this art contest and the work of Zuliana was just an outstanding, eye catching drawing. You can tell she is extremely talented and passionate in her work," says Tim Taylor, SSDA executive director. "She captured the holiday spirit of children making a snowman. The simple innocence in her work yet the attention to detail stood above the 16 finalists."
SSDA is a nonprofit organization that started in 1982 to advocate and be the voice of small rural schools throughout California. They represent over 60% of districts in California. It is a primary goal of SSDA to highlight students in the arts throughout California. This particular competition pulls together such a diverse group of students in some of our smallest towns in California."
"I am extremely proud of Zuliana for representing the many talents of students in small school districts on a statewide level," said San Ardo Superintendent/Principal Dr. Catherine Reimer. "I have watched her grow not only as a talented artist but also as an exceptionally smart young lady over the past seven years. I am confident she will be tremendously successful in her future endeavors and am excited to discover what that may entail."
During this incredibly difficult pandemic, the arts is a great avenue to keep students' spirits and mental health balanced. "Arts education is an integral part of the development of each human being and vital to our society," says Dr. Deneen Guss, Monterey County Superintendent of Schools. "The arts also provide students with higher self-esteem, motivation, improved emotional expression, as well as social harmony and appreciation of diversity. We are so proud of San Ardo ESD and SSDA for their commitment to the arts. We look forward to showcasing Zuliana's work on our county office's website and social media accounts in December and sharing the work with our community once we reopen our offices to the public."
"I started drawing because it was a good stress reliever," said Zuliana Cabajal. "I have liked to draw ever since I was little in kindergarten. I started with drawing cards for my parents and realized how much I loved it. I was surprised and happy that my art was chosen. I hope to one day be able to show my art more."
For more information contact Tim Taylor at Tim@ssda.org 916.949.1601 Cell Phone or San Ardo Superintendent Dr. Catherine Reimer creimer@montereycoe.org.
About Small School Districts' Association (SSDA)
The California Small School Districts' Association (SSDA) is California's leading organization in terms of addressing, supporting, and lobbying on issues specific to the unique needs of small school districts. The mission of the Small School Districts' Association is to provide relevant information and proactive assistance to small school district governing boards and superintendents through legislative advocacy, collaboration, professional development, and support services. To learn more, visit https://www.ssda.org.