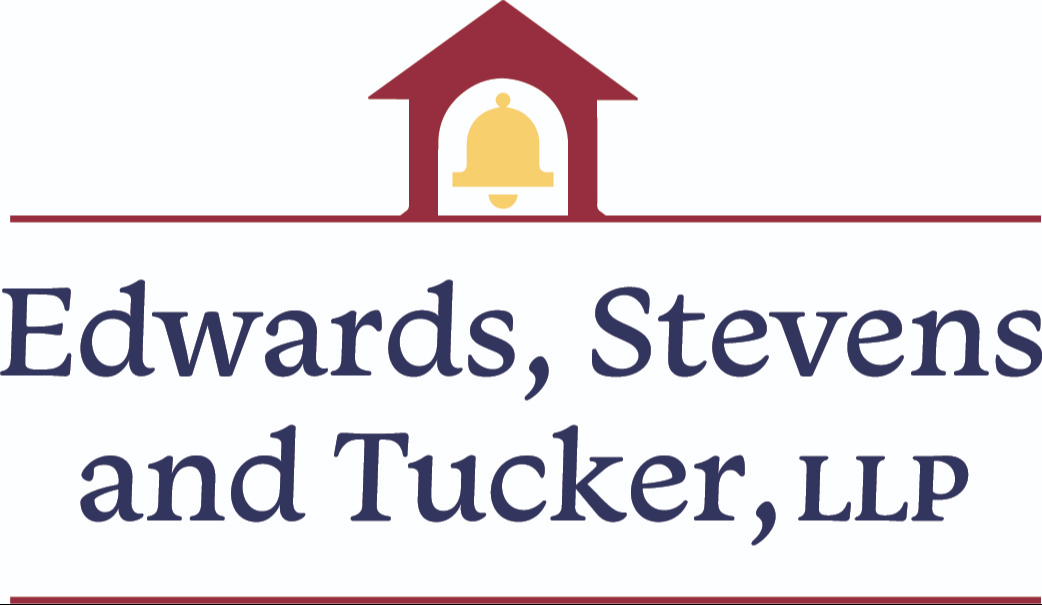 By Edwards, Stevens & Tucker, LLP
For questions regarding these or other legal topics, please contact:
333 University Ave., Suite 200, Sacramento, CA 95825
(916) 565-7697
Highlights From This Year's New Education Laws
​With the end of California's 2022/2023 legislative session approaching, it's time to start reviewing the new laws that will impact public schools in the upcoming school years.
1. Schools must add information on the dangers of synthetic drugs like fentanyl to their websites and handbooks (AB 889)
​Beginning with the 2023/2024 school year, school districts, charter schools, and county offices of education must inform parents or legal guardians about the dangers associated with using synthetic drugs, including fentanyl and counterfeit pills. (Ed. Code section 48985.5.) This information must be included on the organization's website. It must also be annually provided to parents or legal guardians, making it a potentially convenient addition to the information in your annual parent/student handbook.
State Superintendent Tony Thurmond wrote education leaders in October 2022 to emphasize the dangers posed to students from synthetic drugs and provided a four-page flyer of resources. (Available here: https://www.cde.ca.gov/nr/el/le/yr22ltr1027.asp) An LEA may use this information to help write the additions to their website and handbook. CDE may provide a new model language before the start of the 2023/2024 school year.
2. No suspensions or expulsions for disrupting school activities or willful defiance (SB 274*)
Beginning July 1, 2024, no student may be suspended for disrupting school activities or willful defiance. This ban is indefinite for students in grades K through 5. However, as currently written, this limitation sunsets for students in grades 6-12, permitting an LEA to once again suspend students in these grades for disruption/defiance on or after July 1, 2029. However, the legislative trend is clearly towards permanently eliminating these grounds for suspension or expulsion.
A teacher's right to suspend a student from their classroom for the remainder of the day and following day (in-school suspension) is not removed. SB 274 gives certificated and classified staff the ability to "refer a pupil to school administrators for appropriate and timely in-school interventions or supports" due to disruption of school activities or willful defiance. (Ed. Code section 48900(k)(5)(A).) When this happens, a school administrator shall, within five business days, document the interventions and supports used in response to a disruption/defiance referral in the student's file and inform the referring staff member, verbally or in writing, what interventions or supports were used or why no actions were taken. (Ed. Code section 48900(k)(5)(B).) As a reminder, Education Code section 48900.5(b) provides a list of potential interventions and supports, or "other means of correction," which may be tried in response to a disruption/defiance referral.
Through June 30, 2024, no student may be expelled for disruption or willful defiance, but students in grades 9 through 12 may be suspended for these grounds.
3. All-gender restrooms will soon be mandatory for all but the smallest campuses (SB 760*)
By July 1, 2026, each school district, charter school, and county office of education maintaining classes for any of grades 1 through 12 must ensure that each school site with more than one female restroom and more than one male restroom (excluding TK and K restrooms) also has at least one all-gender restroom. (Ed. Code section 35292.5(b).) The all-gender restroom must have signage and be unlocked, unobstructed, and easily accessible by any student during school hours. Existing restrooms can be used to satisfy this requirement. Schools may still temporarily close restrooms and stay in compliance with these requirements if the closures are for repairs or due to a documented or immediate threat to pupil safety. CDE will develop and post guidance on its website for implementing this new requirement, including examples of signage.
On and after July 1, 2026, when any school district, charter school, or county office of education applies for state facility modernization funding, the application must include an all-gender restroom designed exclusively for student use (excluding TK and K restrooms) if the schoolsite has not already established an all-gender restroom. (Ed. Code section 17585.)
Finally, while the legislation is silent on this point, SB 760's author Sen. Josh Newman has said that it was written with the understanding that all-gender bathrooms would be single-occupancy private spaces.
(*At the time of this writing, Gov. Newsom had not signed SB 274 and 760 into law. He is expected to sign these bills into law and has until October 14, 2023, to act.)
Ninth Circuit Holds that Student's Progress on IEP Goals Is Enough to Maintain Placement in a General Education Classroom Despite Not Meeting Grade-Level Standards
​In a recent decision, the Ninth Circuit Court of Appeals weighed the four factors for determining whether placement of a third-grade student with autism in a general education classroom was the child's least restrictive environment. (D.R. v. Redondo Beach Unified Sch. Dist., 122 LRP 48314 (9th Cir. 2022).)
FACTS:
The student had been placed in a third-grade general education class with four (4) hours per week of specialized academic instruction in a learning center, a full-time one on one behavioral aide, and various related services. Midway through third grade, the IEP team met to review the student's progress. Parents believed the student should continue to spend most of the school day in the general education classroom with his non-disabled peers. However, the school district believed that the student would be better served spending more of his school day in a special education classroom with fewer students, more adult support, more direct instruction from a credentialed teacher, more repetition of each topic area, and more group work with peers at a similar grade level.
As a compromise, the district offered a blended program where the student would spend the mornings in general education, and afternoons in a special education classroom and learning center for small group instruction. Parents disagreed with the offer and the student continued in his previous placement. At the end of fourth grade, the IEP team met again to develop an IEP for the upcoming school year. The team agreed that the student had met four of his six academic goals and made progress on the remaining two, but school officials were concerned that he was performing several grade levels below his non-disabled peers in language arts and math. As a result, he was spending most of his time working one-on-one with his aide on a heavily modified curriculum. The school district continued to offer placing the student in a special education class for a majority of his school day.
Parents disagreed with the school district's proposal, removed the student from school and hired a private instructor to teach him in a one-on-one setting. Parents requested a due process hearing and appealed the decision to District Court and then to the Ninth Circuit alleging that the school district denied the student a placement in the least restrictive environment and sought reimbursement for their expense of private tutoring for the student.
DISCUSSION:
Local educational agencies must ensure that:
to the maximum extent appropriate, children with disabilities, including children in public or private institutions or other care facilities, are educated with children who are not disabled, and special classes, separate schooling, or other removal of children with disabilities from the regular educational environment occurs only when the nature or severity of the disability of a child is such that education in regular classes with the use of supplementary aids and services cannot be achieved satisfactorily.
20 U.S.C. § 1412(a)(5)(A).
The Ninth Circuit has established a four-factor test to determine whether a local educational agency has complied with the least restrictive environment requirement. See Sacramento City Unified School District v. Rachel H., 14 F.3d 1398, 1404 (9th Cir. 1994). The four factors that must be considered are the:
1. academic benefits of placement full-time in a regular class;
2. non-academic benefits of such placement;
3. effect the student has on the teacher and children in the regular class; and
4. costs of mainstreaming the student.
Here, the parties agreed that the second, third, and fourth factors all weighed in favor of maintaining the student in the general education classroom for most of the school day. He became close friends with several non-disabled classmates which helped him develop his interpersonal skills and his presence did not impede his teachers' ability to instruct other students or otherwise disrupt the classroom.
However, the parties disagreed on the first and most important factor of comparing the academic benefits in the regular classroom with the academic benefits in a special education classroom. The Court said grade level performance was the incorrect benchmark of academic benefits. Instead, an IEP team should examine whether a student can make meaningful progress on his academic IEP goals. Here, there was undisputed evidence that the student was making substantial progress toward meeting his IEP goals. Even if the student might have received greater academic benefits in a special education classroom, a more restrictive placement that sacrifices the substantial non-academic benefits the student received from being educated in the general education classroom would not be justified. The Court also explained that it was irrelevant that the student received such academic benefits as a result of one-on-one aide support or significant curriculum modification because a child cannot be penalized for relying on the supplementary aids and services he receives.
The Court held that the school district's proposed IEP failed to offer the student free appropriate public education in the least restrictive environment. However, the court denied reimbursement for the expenses parents incurred after unilaterally removing the student from school and hiring a private instructor to educate him in a one-on-one setting. The court explained that removing the student from school and placing him in an even more restrictive setting than the one proposed by the school district was not appropriate.
This case is a great reminder of the IDEA's strong preference for educating students with disabilities with their non-disabled peers. Least restrictive environment considerations are a critical part of any placement determination. A child with a disability should not be removed from education in age-appropriate regular classrooms solely because of needed modifications in the general curriculum. IEP teams need to ensure that they are thoroughly considering the four factors when determining whether a student should be educated in a general education classroom and documenting the team's consideration.
Attend the SSDA & Edwards, Stevens and Tucker, LLP Personnel Institute - Register Here!
Don't worry if you missed the first session; you can email Taylor Smith at taylor@ssda.org to receive a recording of the first meeting.