Register Now for SSDA's 2018 New Superintendents' Symposium!
Corrie Pelc
Monday, April 02 2018
Registration is now open for SSDA's 2018 New Superintendents' Symposium, which will take place July 15-17, 2018, at the Lions Gate Hotel in McClellan, CA.
Click here to register by credit card
Prefer to register by fax or email? Click here to download a registration form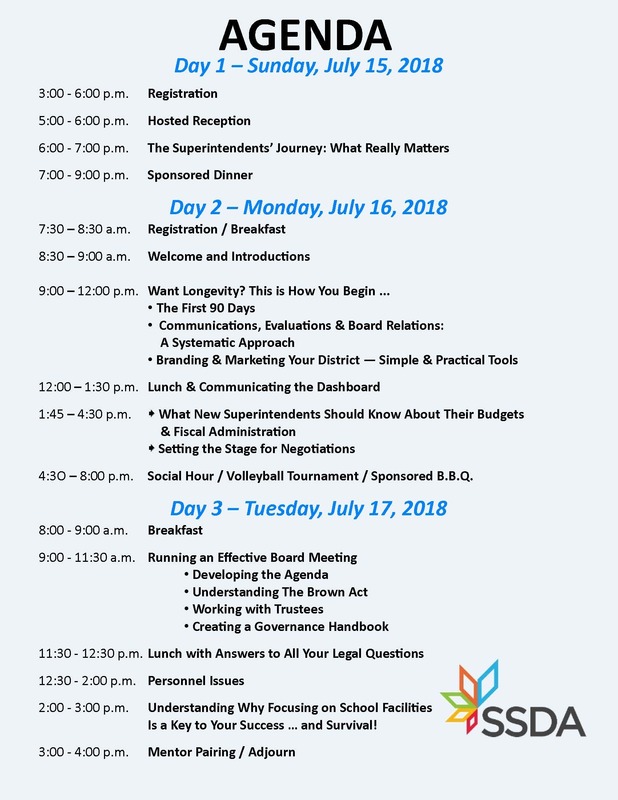 Whether you are an aspiring Superintendent, a new Superintendent, or new to the profession, we invite you to join us for a worthwhile, relaxing and informative 2 1/2 days to gain knowledge and to begin creating a professional network to help you become a more success-ful Superintendent for your District! HOTEL
ACCOMMODATIONS SSDA has made arrangements with the Lions Gate Hotel in Sacramento for the following special room rate of $95 per standard room per night. Please call (916) 640-0835 and mention Small School Districts' Association/SSDA to receive your reduced rates. The cutoff date for receiving reduced room rates is Friday, June 29, 2018.